The Viola da Gamba Society of Japan - Who Are We ?
The Viola da Gamba Society of Japan (the Society) was founded in 1973 for the purposes of spreading the viola da gamba (viol) and its music, promoting and enhancing playing, research, exchanging information, and fostering friendship among its members. The Viola da Gamba Society of Japan is the third oldest Viola da Gamba Society in the world after the UK and the USA.
The Society has around 250 registered members, including amateur and professional players, instrument makers, composers, and musicologists.



New! *** Viola da Gamba Society of Japan 40th Anniversary ***

[Main Activities]
The publication of a quarterly magazine.
The organisation and support of viol-related events.
[Events organized by the Society]
An annual viol summer course.
An annual autumn consort weekend.
Other meetings as arranged.
From time to time the Society also organises and supports open-to-the-public lessons, lectures and concerts related to the viol, such as those listed below:

1990:
M. Hirao lecture on "Trattado de Glosas by D. Ortiz";
1991:
W. Kuijken solo recital;
1991:
A. Crum lesson (open to the public);
1992:
J. Savall lesson (open to the public);
1997:
Chelys Consort of Viols lecture concert 'History of the In Nomine' ;
2001:
P. Pandolfo lesson (open to the public).
[Services to Members]
A quarterly magazine - the only publication dedicated to viols in Japan.
A membership list - useful when looking for consort members to play with.
A scholarly journal (issued on an irregular basis).
A reduction to Society-organized events, such as the viol summer course.
Members' discounts available at the following co-operating stores:

Academia Music Ltd.
Casa de la Guitarra S. A.
Shimokura Musical Instruments Co., Ltd.

A members' mailing list.
[Membership Type]
| | |
| --- | --- |
| Individual Membership: | For individuals. |
| Student Membership: | For students. |
| Family Membership: | Available to those who live at the same address. Only one copy of each bulletin is provided to the registered address. Other services are provided as for individual members. |
| Corporate Members: | For corporations and societies. |
[Annual Fees]
Individual Membership: 4,000 JPY
Student Membership: 2,000 JPY
Family Membership: 4,500 JPY
Corporate Membership: 8,000 JPY
[How to contact us]

International-committee*vdgsj.org
<Please change * to @ when you use.>

[Viola da gamba Society Japan Summer Seminar 2012]

26- 29 July 2012
at Shikanoya (Japanese traditional inn)
Kakeyu (hot spa), Nagano, Japan. http://www.sikanoya.co.jp/

Gamba teachers: Kaori Uemura, Emmanuel Girard
Teacher for beginners: Mikaho Somekawa
Guest players: Ryo Terakado, Yuko Araki
Accompanist: Naoki Ueo harpsichord
Maintenance: Teruaki Hirayama Viola da Gamba maker

Theme of seminar: Enjoyment of In Nomine
Teacher concert, lectures, consort lessons, ensemble lessons, individual lessons,
student concert, and many other attractive events, i.e., the auction for scholarship are planned.

Fees:
Members of VdGSJ: 46,000JPY. Student 36,000JPY.
Non Members: 50,000JPY. Student 40,000JPY.
Fees for individual lessons: 6,000JPY will be added
If you would like to have basso continuo by harpsichord, 2,000JPY is also added.

Enrolment before 5 June 2012
Contact: event*vdgsj.org <Please change * to @ when you use.>

[Consort Weekend 2012]
Consort Weekend 2012 will be held on 18 November 2012 at Ushioda Ballet Studio:
2-33-24, Umegaoka, Setagaya-ku, Tokyo, Japan. http://www.ushioda-ballet.com/

Let's have a consort concert evening together!
You can join the concert with your own consort group and/or join in as an individual player at the free consort session. Non-VgSJ members/groups are very welcome, too.
Details will be announced at the end of summer.


[Summer Seminar 2011]

The Summer Seminar was held from 25th to 28th August at the music inn at Kakeyu Spa in Ueda-city. The tutors were Mr.Shigenori Sennari and Mr.Tetsuya Nakano, and the tutor for the beginners' course was Mr. Hijiri Shinagawa. The harpsichord player was Ms. Hanako Kamogawa, and the viol "doctor" was Mr.Sakae Ishii. The number of participants was 28, and each in their different ways enjoyed the course. An auction was held for the scholarship fund as last year, and the results were excellent.


| | |
| --- | --- |
| Tutors' concert | Lecture given by the tutors |
| An individual lesson | All participants |


[The World of the Viola da Gamba]

<The World of the Viola da Gamba> was held on 12th December 2010 at Pegasus Hall of the Hokutopia, close to Oji station, Tokyo. It included many entertainments such as three concerts, step-up lessons, lessons for beginners, a display of instruments, and an exhibition of the photo competition for the Viola da Gamba. These took place during the day in several rooms all on the same floor.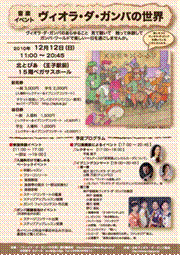 Japan shared the European vogue of viols through Portugal in the sixteenth and early seventeenth centuries. An examination of bowed string instruments' terms in archival documents, called Kirishitan monjo, demonstrates that Jesuit missionaries, then active in Japan, employed viols in both religious and secular ceremonies. Christians played a set of viols for polyphonic music. Japanese envoys* who visited the Iberian Peninsula and Italy from 1584 to 1586 brought a small viola da braccio to Japan. The following terms are found: viola(s) de arco, violoni, viola da gamba, viola, rabequinha and viola semplice. (from RILM abstract)

* "Tenshô ken'ô shisetsu" (Japanese envoys in Europe 1582-90)
The original article: Journal of the Viola da Gamba Society of America Volume vol. 37, 2000, pp. 31-67.